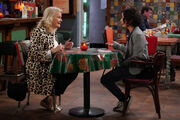 Barb Olinsky is Ben's mother. She is played by Candice Bergen. She quickly met a man she says is named Richard, and had a child with him. Her husband, Nate, tried to raise Ben as his son, but it did not work out. Barb never wanted to tell Ben. As a result, Ben is one of many characters whose life is a lie. He joins the family along with Jackie, who was lied to by Beverly. Also, Beverly herself was lied to by Nana Mary.
Additionally, Barb literally belittled Darlene, as well as mocking Jackie immediately when they met.
Later, she wants Ben to advance his relationship with Darlene.
Episodes
[
]
The Conners
1
2
3
4
5
6
7
8
9
10
11
12
13
14
15
16
17
18
19
20
#
Season 1
-
-
-
-
-
-
-
-
-
-
-
N/A
0
Season 2
-
-
-
-
-
-
-
-
-
-
-
-
-
-
-
-
-
-
-
-
0
Season 3
-
-
-
-
-
-
X
-
-
-
-
-
-
-
-
-
X
-
X
-
3
Total
3
Categories
[
]