Beverly Loraine "Bev" Harris is a fictional character in the Roseanne sitcom, the mother of Roseanne Conner and Jackie Harris. The part of Bev is played on the series by veteran actress Estelle Parsons.
About Beverly
Born 1929.She is the daughter of Nana Mary, mother of Roseanne Conner and Jackie Harris, and grandmother of their children. She married Al Harris after she was pregnant out of wedlock with Roseanne. As a result, Al took out his frustrations on the kids, Roseanne and Jackie, often being verbally and physically abusive towards them, and then for over 20 years had an ongoing affair with a mistress, due to the fact that he married Bev only out of necessity. After finding out the affair had been going on for twenty two years, Bev kicked Al out of the house. Bev herself was, and is during the course of the series, a recovering alcoholic. After husband Al died, Bev later came out as a lesbian to her family towards the end of the series.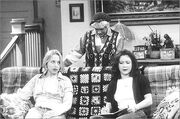 During most of the series, Bev is loving but overly critical of everyone in the family, especially Jackie. She's very hard to please, and extremely hard for anyone to like. She has no problem pointing out the faults in people's lives, often throwing their mistakes in their faces. The only character that has ever matched her was her only mother, Nana Mary, whose relationship with her is very similar to the one she shares with her own daughters. She is portrayed by Estelle Parsons.
Trivia
Bev appears in 59 episodes of the series, being the most recurring family member who is not part of the main cast.When Roseanne was a young girl, whenever she was sad, Beverly would give lots of sweets with ice cream with chocolate chips. She might be the reason that Roseanne is overweight even at a very young age. She used to force her children to go to etiquette shcool, and they were horrible at it. In Home Is Where The Afghan Is, it is hinted that when her kids were growing up, she was more of an etiquette teacher than a mother. 
Community content is available under
CC-BY-SA
unless otherwise noted.