Canoga Time was the 11th episode of Season 1 of Roseanne, also the 11th overall series episode. Directed by Ellen Falcon and written by David McFadzean, it first aired on ABC-TV on January 17, 1989.
Summary
[
]
Dan refuses to part with the "junk" that Roseanne wants to donate to a rummage sale. Meanwhile Darlene forges a grade on her report card.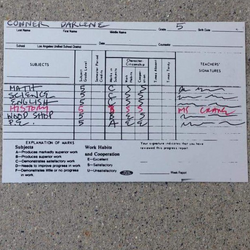 Cast
[
]
Starring
[
]
Also Starring
[
]
Trivia
[
]
As of 2017, Michael Fishman (D.J.) still owns the prop of Darlene's report card. He uploaded the image on his Instagram account which can be seen here [1] and seen directly on the right here.