</noinclude> Geena Williams Conner (Currently played by Maya Lynne Robinson) was a girl in D.J. Conner's class at school, that he refused to kiss her in a school play due to her dark skin color, he later sees sense and kisses her. The situation caused a brief feud between Roseanne and Geena's father who accused the Conners of being racist.
In Season 10, it is revealed that Geena and DJ are married and have a child together, Mary Conner who is named after DJ's Great-grandmother Nana Mary. She is a 2nd Lieutenant in the army and was serving overseas, leaving DJ alone to raise Mary by himself. She returns home from Afghanistan following Roseanne's death, this is only short lived as she is redeployed to Afghanistan not long after. Around two years later, she returns home for a visit. Realizing how much she's missed Mary, she makes the decision to retire from the military and stay with her family.
After making guest appearances in Season 7 and Season 10 in Roseanne, she was eventually promoted to a regular for the spin-off series The Conners. She departed the series after a single season, but returned for a guest appearance in the Season 3 finale.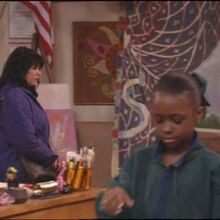 List of Appearances
[
]
Roseanne (TV series)
1
2
3
4
5
6
7
8
9
10
11
12
13
14
15
16
17
18
19
20
21
22
23
24
25
26
#
Season 7
-
-
-
-
-
-
-
-
X
-
-
-
-
-
-
-
-
-
-
-
-
-
-
-
-
-
1
Season 8
-
-
-
-
-
-
-
-
-
-
-
-
-
-
-
-
-
-
-
-
-
-
-
-
-
N/A
0
Season 9
-
-
-
-
-
-
-
-
-
-
-
-
-
-
-
-
-
-
-
-
-
-
-
-
N/A
0
Season 10
-
-
-
-
-
-
X
-
-
N/A
1
Total
2