Welcome to The Roseanne Wiki!!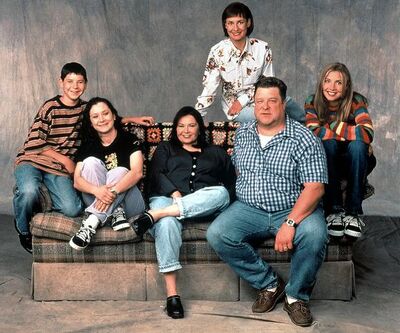 Roseanne is an Emmy Award-winning American sitcom which aired on ABC from 1988 to 1997, starring Roseanne Barr. The show portrayed a working-class family living in the fictional town of Lanford, Illinois, struggling to get by on a limited income. Many critics have claimed the show to be the most ground-breaking sitcom in generations as it was the first to portray a stark reality that many American families had already lived with for decades: both parents working out of the house.
Roseanne is an American sitcom that originally ran on ABC-TV. The series premeired on October 18, 1988, and ended its' run on the network on May 20, 1997. The show revolved around the Conners, an Illinois working-class family. The series reached #1 in the Nielsen ratings becoming the most watched television show in the United States from 1989 to 1990, and remained in the top four for six of its nine seasons, and in the top twenty for eight seasons.
For many years, Roseanne tackled subjects that most other popular shows at the time avoided, such as poverty, alcoholism, narcotics, sex, race, menstruation, masturbation, obesity, feminism, domestic violence, and homosexuality. The show was also significant for its portrayal of feminist ideals including a female-dominated household, an overweight female lead whose likability didn't rely on her appearance, relationships between female characters that were cooperative rather than competitive, and females openly expressing themselves without negative consequences. The show was hugely successful from its beginning, spending its first six seasons among the Nielsen Ratings' top five highest-rated shows. The show's success inspired television networks to offer a rash of sitcom deals to stand-up comedians, a practice that continued for years afterwards. During its seventh season, the show's ratings dropped but it still managed to remain among the Neilsen Ratings' top ten highest-rated shows. It was only during the show's ninth and final season, when the show's storyline drifted away from its original premise, that Roseanne dropped below the Neilsen Ratings' top thirty highest-rated shows.
Welcome, fans!! Welcome to this Wikia, we welcome any contributions! We invite you to log in and create a user name.
Creating a user name is free and takes only a minute and it gives you greater anonymity if that is your wish. In addition, it is easier for other contributors to ask you questions and help you.
Of course, we hope you continue to make contributions, even if not logged in.
If you are new to Wikia or wikis in general, please visit the Community portal for an outline of some of the main parts of the site and links to pages that show you how to edit.
Discussion of any aspect of the site, and enquiries, can be made at the Forum or on the "discussion" page associated with each article. Please sign and date your contributions there, so that readers know "who to talk to" and whether your message is probably still of current interest.
Featured Article
Satan, Darling was the seventh episode of Season 9 ofRoseanne, also the 205th overall series episode. It was written by Stacie Lipp, and was directed by Mark K. Samuels. It originally aired on ABC-TV on October 29, 1996.
Loading RSS data...