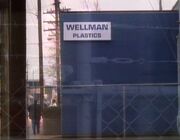 Wellman Plastics was one of the major industries in Lanford which employed a good number of the townspeople like Roseanne Conner, Jackie Harris, and Crystal Anderson Conner in factory work.
It was run by the Wellman family which were one of the town's leading families and wielded considerable influence. The factory churned out all sorts of products which the assembly line girls would have to separarate from the moulds or frames before being shipped out. Roseanne, Jackie and Crystal worked there for a decade before quitting in 1989 when their new obnoxious manager takes one liberty too far with the staff and several employees including the aforementioned three quit in disgust.
This is seen to be the beginning of the end for Wellman Plastics as the business is never quite the same. In 1991, Jerry Bowman accepts a management position with the firm only to be made redundant the next year when the company's finances nosedive (most likely due to the early 90s recession) and eventually the factory is forced to close.
In the 9th Season, after winning the lottery, Roseanne buys Wellman Plastics with the son of the former owner and the two bring much needed employment back to the town before it is revealed this is part of her writing fantasies.
Other notable Wellman Plastics employees include Sylvia Foster, Booker Brooks (Jackies boyfriend), Keith Faber, Vonda Green, Lou, Juanita Herrera Pete Wilkins and Lou.
Community content is available under
CC-BY-SA
unless otherwise noted.